Medical and Clinical Leadership
Corrinne Archibald,
RD, LDN
Coordinator of Outpatient Nutrition Services – MA Region
Corrinne has been part of the Walden team for over 12 years. Her kind and empathic approach to nutrition counseling helps individuals in her care to feel more at ease. With a constant smile and a bright demeanor, Corrinne is a valued member of the clinical team and is looked to for nutritional guidance by her clients and her colleagues alike. In her current role, Corrinne is responsible for providing nutritional support and consultation across our various Massachusetts outpatient clinics.
Corrinne earned her BS in Dietetics from the University of Northern Colorado in 2006 and completed her dietetic internship through Simmons College in 2007.
When she's not wearing her dietitian hat, Corrinne is a proud mother to a daughter and new baby boy and a fur mama to her "fun-loving" lab named Finn.
Linda Paulk Buchanan,
Ph.D.
Senior Clinical Director, Georgia Programs
Full of warmth and compassion, it's easy to see why people are so drawn to Dr. Linda Buchanan. Linda is a pioneer in the eating disorder field and she is credited with training a large percentage of the eating disorder therapists in the Atlanta area. She was the founder of Atlanta Center for Eating Disorders (ACE) that is now part of Walden. Linda's clinical interests include diagnosis, personality variables and coping resources of those living with eating disorders and has particular experience helping individuals to use and integrate their faith in the recovery process.
She received her Master's degree from the Psychological Studies Institute (now known as Richmont University) in Christian Counseling and received the 1999 Distinguished Alumnus Award for her work in founding ACE. Dr. Buchanan then went on to receive her Ph.D. from Georgia State University completing a residency at the Medical College of Georgia.
Linda is a published author. Her book "A Clinician's Guide to Pathological Ambivalence; How to be on Your Client's Side Without Taking a Side," provides helpful techniques in working with a population that is ambivalent about recovery. When she's not busy profoundly impacting her clients or mentoring other clinicians, Linda enjoys traveling, backpacking and writing.
Adolph Casal,
M.D.
Medical Director, Georgia Programs
We have our very own Dr. McDreamy in Dr. Adolph Casal. Need a superhero to lift a car, he can do it. Need a patient calmed and multiple teams mentored? No sweat for Dr. Casal. A man who rarely rests, we appreciate Dr. Casal's unwavering commitment to our Georgia patients and clinical teams.
Dr. Casal is responsible for overseeing medical services, programming and staff supervision across our Georgia locations. Bringing more than 25 years of experience treating children and adults for a wide range of mental health conditions, Dr. Casal is inspired by the bravery of our patients and is committed to ensuring that they receive care that will support their recovery goals. He is a diplomat of the American Board of Psychiatry and Neurology and also serves as the medical director of psychiatry at Children's Healthcare of Atlanta.
Prior to joining our Atlanta team, Dr. Casal served as an instructor in psychiatry at Cornell University's Medical College. He earned his medical degree from the Medical College of Georgia and his bachelor's degree from Emory University. When he's not focusing on patients, Dr. Casal likes to spend time with his incredibly talented family of athletes, doing Crossfit, traveling and tries to fit in skiing whenever he can.
Michael Chiumiento,
Psy.D.
Clinical Supervisor of Adolescent and Family Services
Dr. Michael Chiumiento has been a part of the Walden family for almost eight years. He is passionate, brilliant and committed to the recovery success of those that he works with and their families. In his current role, Michael provides training and consultation to our adolescent treatment programs with an emphasis on evidence-based interventions including Family-Based Treatment (FBT) and Dialectical Behavior Therapy (DBT). Michael also provides training and consultation to schools and outside agencies and continues to facilitate skills and support groups for parents and other caregivers across our adolescent continuum of care.
Michael has received extensive training in FBT and DBT, sits on a DBT consultation team and provides outpatient individual and family therapy services. He received his graduate education in clinical psychology at William James College and completed a doctoral dissertation on the use of group therapy interventions for parents engaged in adolescent eating disorder treatment.
Michael's passion for his clients and their families is felt by all those who have the pleasure of working with him. His patient and empathic demeanor help him to create meaningful and trusting relationships with his clients and their families. When he's not wearing the "parent guru" hat – as he has been affectionately called by his colleagues – Michael enjoys writing, meditating and spending time at the beach.
Kate Craigen,
Ph.D.
Director of Clinical Integrity and Innovation
We all appreciate Kate, (Dr. Kate Craigen) and her wonderful listening ear. She is warm, delightful, and always ready to tackle any challenge thrown her way. As our Director of Clinical Integrity and Innovation, Kate is consistently evolving our programs, making sure they remain state of the art, offering the best, innovative, evidence-based therapies and programs that blend client needs with clinical integrity.
Before joining Walden in 2014, Kate conducted her postdoctoral fellowship and was a clinical instructor at the Eating and Weight Disorders Program in the Department of Psychiatry at the Mount Sinai School of Medicine. Kate received her doctorate in clinical psychology from Fairleigh Dickinson University.
When Kate's not busy leading and innovating programs here at Walden, she's our own Martha Stewart following her passions like sewing, hosting dinner parties and taking care of the plants that fill her home. She's also a dance enthusiast and she is one of the only people we know that finds cleaning 'fun.' Last but not least, Kate is thoroughly enjoying her newest title, Mom.
Rachel Fortune,
M.D., FAAP
Medical Director, Adolescent Services
Dr. Fortune is a bold, brilliant and fun leader. She is an esteemed adolescent medicine provider who also understands that humor can be a hugely helpful component for many who are doing the hard work of eating disorder treatment. She comes to us with extensive experience working not only with eating disorders but also with general medicine and substance use disorders. In her current role at Walden, she provides clinical care and oversight for our inpatient eating disorders unit and our residential program. Dr. Fortune is an expert in the medical management of eating disorders, is board certified in both Pediatrics and Adolescent Medicine and has committed her professional career to advancing the field of eating disorders.
Before joining the Walden team, Dr. Fortune served as the National Medical Director for Newport Academy in Connecticut and worked at Yale University School of Medicine / Yale New Haven Hospital serving the adolescent population. She completed her pediatrics residency at Nationwide Children's Hospital and Adolescent Medicine fellowship at Children's Hospital Colorado. Dr. Fortune brings her eating disorder expertise from all settings of treatment to provide excellent patient care.
Dr. Fortune's spunky personality and no-nonsense clinical approach allow her to create trusting and collaborative relationships with her patients. In her spare time, Dr. Fortune is a busy mom to two daughters and a large goofy dog. She enjoys spending time with family and friends and singing at/attending country music concerts.
Gail Hanson-Mayer,
APRN, CS, BC, MPH
Associate Medical Director, Ambulatory Clinics
Always willing to go the extra mile, Gail's commitment to her work is matched only by her genuine concern for the well-being of her patients and her dedication to the professional development of her colleagues and mentees. Calm, even in the most stressful of situations, we all look to Gail as a guiding light and role model for our emerging leaders.
Since Walden began in 2003, Gail has held many positions. In her current role, she is responsible for medical and psychiatric support management at our residential program and the satellite clinic locations across Massachusetts. She is responsible for coordinating care for individuals living with a variety of complex medical and psychological conditions monitoring and evaluating their medication needs and providing ongoing physical and emotional assessments. Gail also serves on numerous leadership committees and she is always one to take charge and make sure that things are accomplished in a timely manner.
In her 35 years of nursing experience, Gail has held a variety of distinguished roles including senior nursing and consulting positions at Sterling resources LLC, Universal Health Services, Management Services, Inc. and Choate Health Management Inc. Concurrent to her role here at Walden, Gail also serves as the Director of Counseling Services at Regis College.
Gail was recently the co-recipient of the inaugural, James Greenblatt Award for Clinical Excellence. This is our highest clinical honor that acknowledges a special individual who has demonstrated a steadfast commitment to patient care and their recovery success. Gail is proud to share her birthday with one of her favorite athletes, Larry Bird. She is an avid Celtics and Red Sox fan. Don't get her going on the most recent World Series! She loves working with athletes and has been the manager of The Haydenettes – national champions in synchronized skating -for the past 20 years. To top all that off, she has a new granddaughter that was born on the lunar eclipse.
Bridget Komosky,
MS, RD, CD-N
Nutrition Coordinator – CT Region
Bridget has been a part of the Walden team since 2013. She is known by her patients and colleagues alike to be bright, patient and knowledgeable. In her current role, she is responsible for the supervision of the dietitians in the region, working with clients and their families to establish nutrition goals and plans that are appropriate and make sense for their recovery success and works with other nutrition coordinators to ensure that the nutrition program throughout the continuum of care is as effective as possible.
Prior to joining us here at Walden, Bridget was a dietitian at New York – Presbyterian Hospital's inpatient eating disorder unit. Her clinical interests include eating disorders, basic cardiac health and how to incorporate exercise in a balanced and healthful way.
In her downtime, Bridget enjoys gardening, cooking, baking, training and playing with her 6-year old dog, Stella and spending time with her husband and friends.
Alexandra Natova,
M.D.
Medical Director, Medical Services
Dr. Natova manages the non-psychiatric medical care for individuals in our inpatient, residential and partial hospitalization programs. She works in close collaboration with attending psychiatrists, nurse practitioners, nurses, dietitians, social workers and counselors. Her day-to-day responsibilities typically include completing initial medical evaluations and providing medical consultations for the management of complex clinical cases during hospitalization. Dr. Natova is an active member of our Infection Control Committee, which serves to minimize patient and employee risk of infections.
Before joining Walden, Dr. Natova worked for many years in several hospital-based internal medicine and primary care offices and was an attending physician at Northeast Specialty Hospital in Braintree, MA as well as Kindred Hospital in Waltham, MA. Dr. Natova received her medical degree from the Pavlov Higher Institute of Medicine in Bulgaria and completed internship and residency in medicine at St. Elizabeth's Medical Center in Boston.
When she's not at Walden, Dr. Natova manages her own primary care practice and is also an assistant professor in medicine at Tufts Medical School.
Mariela Podolski,
M.D.
Medical Director
When it comes to the perfect blend of warmth, charisma and experience, Dr. Podolski has it all. Her wealth of knowledge and experience leading patient care and medical supervision assures the patients in our care at Rockville Hospital are receiving the highest quality of care and compassion.
Dr. Podolski is board certified from the American Board of Psychiatry and Neurology in both Adult Psychiatry and Child and Adolescent Psychiatry. She received her doctorate in medicine and surgery from the Universidad de Costa Rica, completed her general psychiatry residency at The Institute of Living in Hartford, and her child and adolescent psychiatry fellowship at the Medical College of Wisconsin in Milwaukee. Additionally, Dr. Podolski is a clinical assistant professor of psychiatry at the University of New England College of Osteopathic Medicine.
Before she came to the United States, Dr. Podolski was a general practitioner in Costa Rica for four years. She delivered primary care medicine to a very rural area, indigenous communities. According to Dr. P, "sometimes we would go into the reservation and provide care with no other resources than what we could carry on a donkey. We did it all, from primary care and wound care to delivering babies. It helped me become a more well-rounded physician. It was also really cool to live so close to the Caribbean beaches that are true paradises."
As a trained ballerina, Dr. Podolski noticed many of her peers developing pretty significant body image issues. Wanting to help this population of people drove her career interest in eating disorder support and care.
In her spare time, Dr. Podolski drives hours every winter weekend with her husband and young family to ski Vermont's White Mountains! Hard to believe this Costa Rica Native has traded in her flip flops for a pair of ski boots. Here at Walden, we know who to reach out to if we need an insider's perspective on planning a vacation to her beautiful Costa Rica.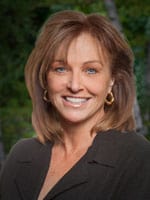 Jane Sullivan,
PMHCNS, BC
Associate Medical Director, Inpatient
Jane is a natural leader whose heart is big…really big. She pours everything she has into her work with clients and her relationships with colleagues. She is a calming presence and is adored both by her patients and those who get to work beside her.
Jane is a board-certified psychiatric mental health clinical nurse specialist who has been working with the medically compromised patients in our hospital for over 10 years. Jane currently coordinates all care for the individuals on our inpatient units, collaborating with the multi-disciplinary teams and leading medical and psychopharmacological evaluations.
Before settling here at Walden, Jane worked at several outpatient psychiatric clinics and served our country as a Captain/Staff Nurse in the United States Air Force. She received her BSN from the University of Vermont and her master's degree from Rivier University.
Jane recently received the inaugural, James M. Greenblatt Award for Clinical Excellence. This is our highest clinical honor that acknowledges a team member who has demonstrated a steadfast commitment to the recovery success of their patients.
In her spare time, Jane and her husband like to visit their now grown kids in NYC and DC and explore museums and restaurants. She also loves landscaping projects, hiking and water sports. Jane prides herself in being able to stay in touch with her friends from college and the Air Force WITHOUT having any social media accounts!
Ashley Vazquez,
MS, RD, LDN
Director of Nutrition Services, 24 hour Care
Ashley is a bright presence on the inpatient unit who is adored by her clients for her calming demeanor, ability to set firm boundaries while remaining a steadfast ally and her patient clinical style that helps clients to feel more comfortable and connected. Ashley has been with Walden since 2012. In that time she has had several roles in varying levels of care including intensive outpatient, partial hospitalization, residential and inpatient. In her current role, Ashley oversees the nutrition departments for the inpatient and residential units. This includes implementing and enforcing nutrition policies, providing supervision to staff dietitians and overseeing nutrition programming. Ashley specializes in medical nutrition therapy and support for individuals living with eating disorders.
Ashley received her master's degree in nutrition from Boston University. Before coming to Walden she completed her Dietetic Internship through Boston University and received excellent training in a variety of clinical and community rotations. These rotations included training around counseling individuals with eating disorders which is where Ashley's passion for working in this field began.
When she's not on the units, Ashley enjoys spending time with her husband, daughter and two dogs, being outdoors, cooking up new and exciting dishes, and cheering on the Green Bay Packers.